Wednesday, May 30, 2012
First off, ALERT! if you want to play in the June Round Robin Challenge,
sign up NOW
! Sign ups close tomorrow night! Don't worry- it looks like all of the first spots will be filled up, so there is no pressure there! But, please sign up- it's so much fun!
And, please vote for your favorite layouts for the
May Round Robin
. ANYONE can vote. Just PM the hostess.
Let's examine one team's transformation:
Peggy kicked off round one with this stunning layout:
And, here is Lisa V's take on it: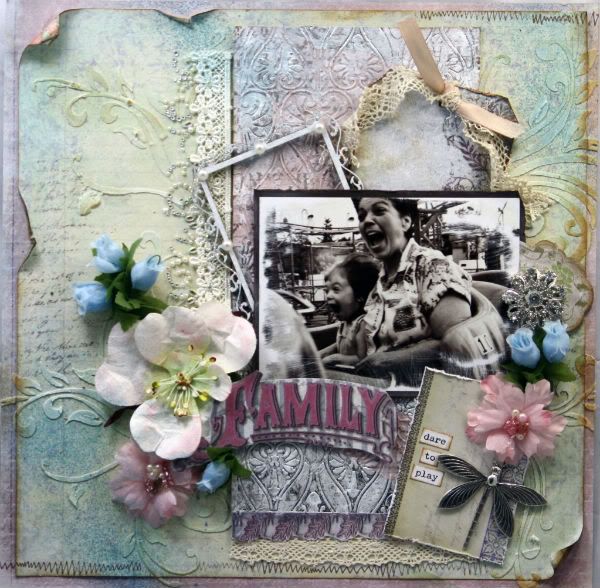 Lisa used many elements that Peggy did: the stenciling with gesso or molding paste; the tag, ATC, and frame layers. She added another larger layer, stitching, and lace, and added a larger title under the pic, which is a different shape.
It was Linda's turn next:
So, she also added the stenciling, tag, and the ATC. Her layers under the pic are there, just a little different. She added another larger layer, and used a die cut paper for the border. Her colors are more contrasting than Lisa's. And she used a color pic instead of black and white.
So Sherri finished the transformation, and her layout really encompasses all of the previous layouts.
She used the die cut paper like Linda, but in a different way. She kept the tag and ATC, and the stenciling, but she colored hers and cut it out. She added butterflies and similar layers under the pic like Linda. She added punched out images and also a stamp.
Each of these layouts are gorgeous; a lift, yet completely each talented ladies own style. It's so much fun to see the evolution of the layouts each Monday (or before, if you are a Rebel!). It also gives you a reason to look forward to Mondays! (WHAAAAT?) If you don't already, please consider joining us.
Swirlydoos Site Links
Pin Us!!

Popular Posts
Hi =) Today I have a tutorial for you. Hope you want to join in and follow all my pictures... It´s several of them =). First a photo of the...

Another card challenge and tutorial is uploaded to the All about cards thread. The challenge is to make a card or tag using the colors: ...

Hi there!  Join me on my video tutorial and make this deceptively simple flower using Sizzix Alterations Tattered Floral dies, stamen,  some...

Happy Saturday Swirly Girlies!!! Today I wanted to share with you a simple comparison between the different types inks that are out...

Hello all! Angelica here with a quick and easy tutorial on making your own burlap butterflies. The March Kit, Salutations, has some pretty u...

This month we have a wonderful guest designer. Our very own Swirly Girlie Jan Penny. Jan was the winner of our layout of the year challenge...

Welcome to: Swirlydoos Kit Club  July Scrapbook Kit Reveal & Blog Hop! Swirlydoos is proud to bring you our beautiful July coll...

It's the fourth (and final!) week of Swirly Challenges for November; still time to roll up your sleeves and wake up your mojo! ...

Welcome to: Swirlydoos Kit Club  April Scrapbook Kit Reveal !  Th is month we are doing a Social Media reveal. Please join us her...

We received NUMEROUS submissions for our Guest Designer call here at Swirlydoos, and were truly humbled by the talent of all of the ladies ...