Wednesday, July 25, 2012
Did you know that here at Swirlydoos, every month we have five challenges to spark your creativity and share your lovely works of art! Here they are:
1. Monthly Sketch Challenge
We have an NEW, exclusive, fabulous sketch designed by the one and only Beggahuna based on the current month's kit. It is revealed with each kit, and you have a month to complete this challenge. Here's this month's sketch designed for "The Paper Doll" kit: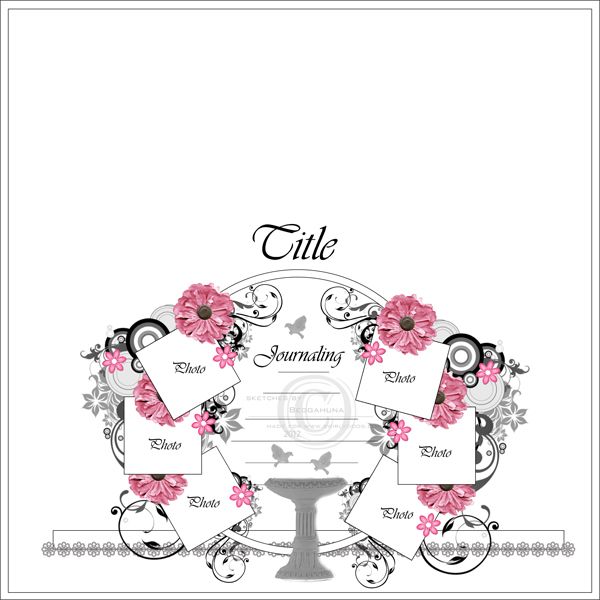 Here
is where you can see what others have done with it, including the design team. This challenge ends on August 16th.
2. Swirlyhues Challenge
In addition to the sketch challenge, there is also a color challenge, Swirlyhues, that also coordinates with the monthly kits. The difference is, you don't have to use the kit or the sketch: just the colors! Every month a member of the design team picks out the colors and an optional sketch for inspiration. Typically the challenge begins on the 10th of every month. This month, Angelica is our host, and here is the storyboard she prepared:
Click here
to see what the design team and other talented artists have created. And, if you haven't started yet, you have until August 10th to get this done!
3. Angelica's Butterfly Challenge
If you love butterflies, then this is the challenge for you! Angelica provides an opportunity to post your beautiful layouts using the current kit and any butterflies you choose to add to your project. Those are the only requirements! So, if there are butterflies in the kit, use them, or you can even make your own using the butterfly images that Lisa G provides us every month, coordinating with the kit. Here is the inspiration that Ang provides this month:
This challenge ends August 15th!
4. Round Robin Challenge
This challenge is a subscriber hosted, with volunteers who have signed up at the beginning of the year. You do have to sign up for this challenge in advance, typically the last week of the month. The basic idea is that you are assigned to a team; the first person creates a layout (using 50% Swirly kits), and each week, a designated member of the team lifts the layout before them. The hostess provides you with twists that are optional, but may inspire you to try new things. This month, there are five twists! Check out the masterpieces that have been created this month
HERE
! So, even if you don't participate, it's still fun to watch the transformations! Watch for sign ups for August any day now if you'd like to join us.
5.
SGC (Swirly Girls Challenge)
This is another challenge that is hosted by subscribers who have also signed up in advance. It is a challenge that is completely up to the hostess on what she wants to do; the only restriction is that it must be created using at least 50% Swirly kit stuff. This month, Amber is hosting, and her theme is
"Christmas in July"
. She's challenging us to use techniques that Tim Holtz uses on his 12 Tags of Christmas. Here's the inspiration she has prepared:
And, she is also offering a HUGE prize to the winner. If you want to win it, post your layout by July 30th!
With five challenges going on every month, there is sure to be one that you can try out and use those fabulous kits!
Swirlydoos Site Links
Pin Us!!

Popular Posts
Hi =) Today I have a tutorial for you. Hope you want to join in and follow all my pictures... It´s several of them =). First a photo of the...

Another card challenge and tutorial is uploaded to the All about cards thread. The challenge is to make a card or tag using the colors: ...

Hi there!  Join me on my video tutorial and make this deceptively simple flower using Sizzix Alterations Tattered Floral dies, stamen,  some...

Happy Saturday Swirly Girlies!!! Today I wanted to share with you a simple comparison between the different types inks that are out...

Hello all! Angelica here with a quick and easy tutorial on making your own burlap butterflies. The March Kit, Salutations, has some pretty u...

This month we have a wonderful guest designer. Our very own Swirly Girlie Jan Penny. Jan was the winner of our layout of the year challenge...

Welcome to: Swirlydoos Kit Club  July Scrapbook Kit Reveal & Blog Hop! Swirlydoos is proud to bring you our beautiful July coll...

It's the fourth (and final!) week of Swirly Challenges for November; still time to roll up your sleeves and wake up your mojo! ...

Welcome to: Swirlydoos Kit Club  April Scrapbook Kit Reveal !  Th is month we are doing a Social Media reveal. Please join us her...

We received NUMEROUS submissions for our Guest Designer call here at Swirlydoos, and were truly humbled by the talent of all of the ladies ...